National Centre for Sustainable Delivery Newsletter September 2022
Welcome
The first year of the Centre for Sustainable Delivery
The national Centre for Sustainable Delivery (CfSD) was launched in 2021 to recover, renew and transform Scotland's health care system through sustainable innovation and digital solutions.
Managed by NHS Golden Jubilee and commissioned by the Scottish Government, CfSD brings together existing transformation programmes with an innovation team to support the rapid rollout of new techniques, innovations and clinically safe, fast and efficient pathways for Scotland's patients.
Earlier Cancer Diagnosis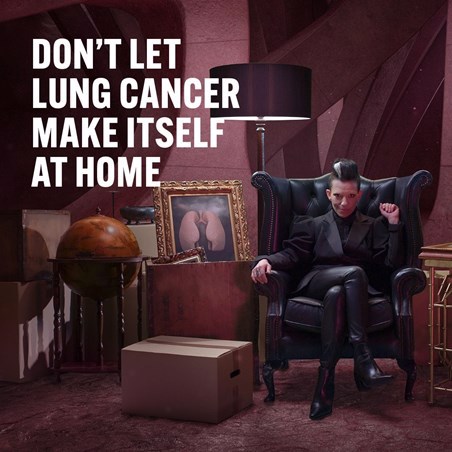 The Earlier Cancer Diagnosis Programme works collaboratively with a wide range of stakeholders (including academics, wider UK nations, senior leaders, patient representatives, third sector, NHS Scotland's clinical community and beyond) to improve outcomes for cancer patients by improving earlier detection rates and enhancing patient experience.
In the last year, we have:
Launched 3 Rapid Cancer Diagnostic Services (formerly known as Early Cancer Diagnostic Centres) in Ayrshire & Arran, Dumfries & Galloway and Fife, with  around 16% conversion rate to cancer with high patient satisfaction.
Delivered a new Detect Cancer Early (DCE) lung cancer campaign, with 64% of those who have seen the campaign taking action as a result.
Lead on the development of Scotland's first optimal cancer diagnostic pathway for lung.
Formed a new multi-disciplinary Earlier Diagnosis Programme Board.
Funded the North Cancer Alliance to support community pharmacy in identifying patients with symptoms suspicious of cancer and, where necessary, prompting referral to an urgent suspicion of cancer (USC) pathway.
Updated the Scottish Cancer Referral Guidelines.
Started to develop Scotland's new Earlier Diagnosis vision which will form part of the new cancer strategy, expected Spring 2023.
Click here to find out more about how we're supporting earlier cancer diagnosis.
Improving patient access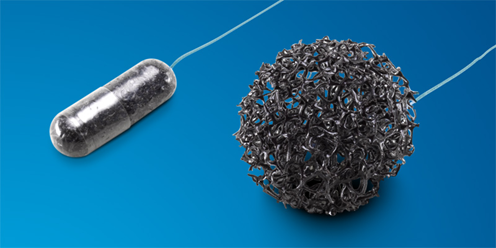 The national Centre for Sustainable Delivery brings together the existing Modernising Patient Pathways Programme and the Scottish Access Collaborative to improve patient access to clinical services.
These are well-established programmes of work focused on optimising the delivery of planned care through improvement methodologies and service redesign.
Implementation of SAC/MPPP programmes at Board level in 2020/21 released over 90,000 Outpatient appointments and over 17,000 bed days:
Active Clinical Referral Triage saved 34,301 Outpatient appointments.
Patient Initiated Review saved 18,510 Outpatient appointments.
Digital Dermatology Service delivered 4,600 virtual Outpatient appointments.
Colon Capsule Endoscopy delivered 2,886 procedures across 6 NHS Boards and released 1,522 colonoscopy appointments.
Cytosponge delivered 3,903 procedures across all mainland NHS Boards.
CfSD continues to offer support and guidance on implementing the standardised pathways to ensure each individual patient's recovery is optimised. This enables earlier return to functional recovery, has improved both morbidity and mortality from surgery and freed up vital capacity through reduction in the time spent in hospital.
Click here to find out more about how we're improving patient access.
Innovation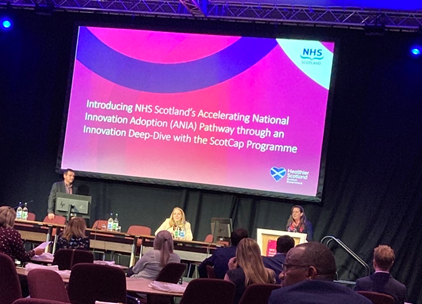 The Accelerated National Innovation Adoption (ANIA) pathway was launched at the NHS Scotland Event in June 2022.
Designed to scale high impact proven innovations on a Once for Scotland basis to aid NHS Scotland recovery, ANIA is a collaborative programme that reports to the CfSD Strategy Board.
The ANIA Collaborative is made up of CfSD, NHS National Services Scotland, Healthcare Improvement Scotland, Public Health Scotland, NHS National Education Scotland, Scottish Health Industry Partnership and the Digital Health and Care Directorate in Scottish Government.
Following establishment of the ANIA Collaborative we have:
developed an end-to-end ANIA pathway process,
created Referral and Triage and Strategic Assessment forms and accompanying guidance notes
developed a portfolio of innovations to progress through the ANIA pathway
Look out for more information on ANIA innovations as they progress along the pathway.
Click here to find out more about the ANIA pathway.
Click here to find out more about our innovation programmes.
Clinical leadership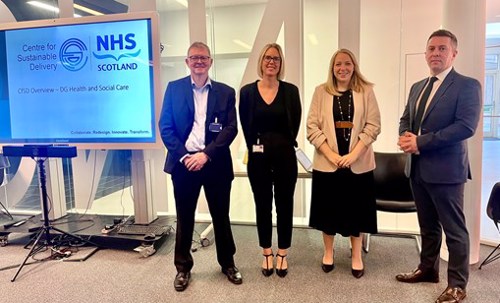 CfSD has cultivated new of ways of working to enable clinically-led, locally relevant service transformation.
At the heart of this work is the Specialty Delivery Groups which are designed to enable local clinical and operational leadership to collaborate, on a national basis, in order to address key specialty-specific challenges.
The SDGs will be co-chaired by a National Associate Clinical Director (NACD) and the speciality Clinical Lead – ensuring they have robust, credible senior leadership.  The Clinical Lead will provide speciality-specific expertise and understanding, and the NACD will ensure that the SDG work is fully aligned with the broader requirements of the NHS Scotland Recovery Plan and the "Once for Scotland" pathways.
Membership is designed to be reflective of the expertise and professional requirements needed to support improvement and redesign within that particular specialty across Scotland. 
The SDGs are designed to support, innovate and develop high quality services across Scotland, reducing unwarranted variation and, where appropriate, promoting a Once-for-Scotland approach.  This includes supporting the implementation of existing programmes of work from CfSD such as Acute Clinical Referral Triage (ACRT) and Discharge Patient Initiated Review (PIR). 
National Elective Coordination Unit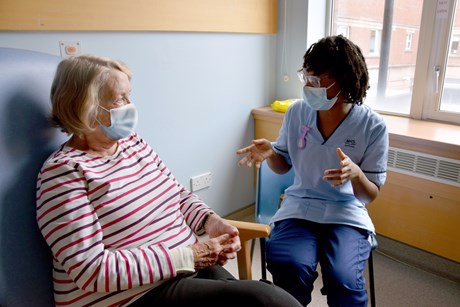 We are testing a new capacity assessment and allocation model to support recovery and remobilisation of NHS Scotland and reduce long waits caused by Coronavirus (COVID-19).
The National Elective Coordination Unit (NECU) pilot will ensure that NHS capacity is fully utilised by:
providing a consistent approach to capacity assessment and allocation,
targeting support in reducing demand and increasing activity for Boards who have reached maximum capacity locally,
reducing local variation, and
ensuring equitable access on a "Once for Scotland" basis.