Ground-breaking medical gases programme wins inaugural European sustainability award
A programme to reduce the environmental impact of medical gases across NHS Scotland has won the Health Care Without Harm European Sustainable Healthcare Project of the Year.
The Green Anaesthesia Scotland project, which is now part of the Centre for Sustainable Delivery's National Green Theatres Programme, was announced the winner at the inaugural European Sustainable Healthcare Awards in Berlin on 7 June.
The project was one of 4 finalists selected from 36 entries across Europe.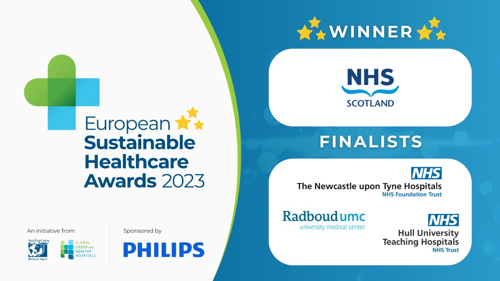 The European Sustainable Healthcare Awards judges commented:
"The strategies and procedures have already spread at national level, and improvements first seen locally have now been adopted throughout Scotland and actively adopted in other countries.
 "The project has a substantial effect on reducing CO2 equivalent-emissions, benefitting both the community and environment without negative effects on patient outcomes."
Dr Kenneth Barker, Clinical Lead for the National Green Theatres Programme, said:
"Taking these first small steps to phase out nitrous oxide and desflurane can be a catalyst for greater change. Ultimately the aim is to include sustainability in every clinical and managerial decision.
"A great thanks to the whole team and also to the politicians who listened to our idea and backed it up with the funds, time and resources that we need."
Professor Jason Leitch, National Clinical Director, added:
"This has been a massive team effort and, without a doubt, will be one of many awards this project will bring home to Scotland."